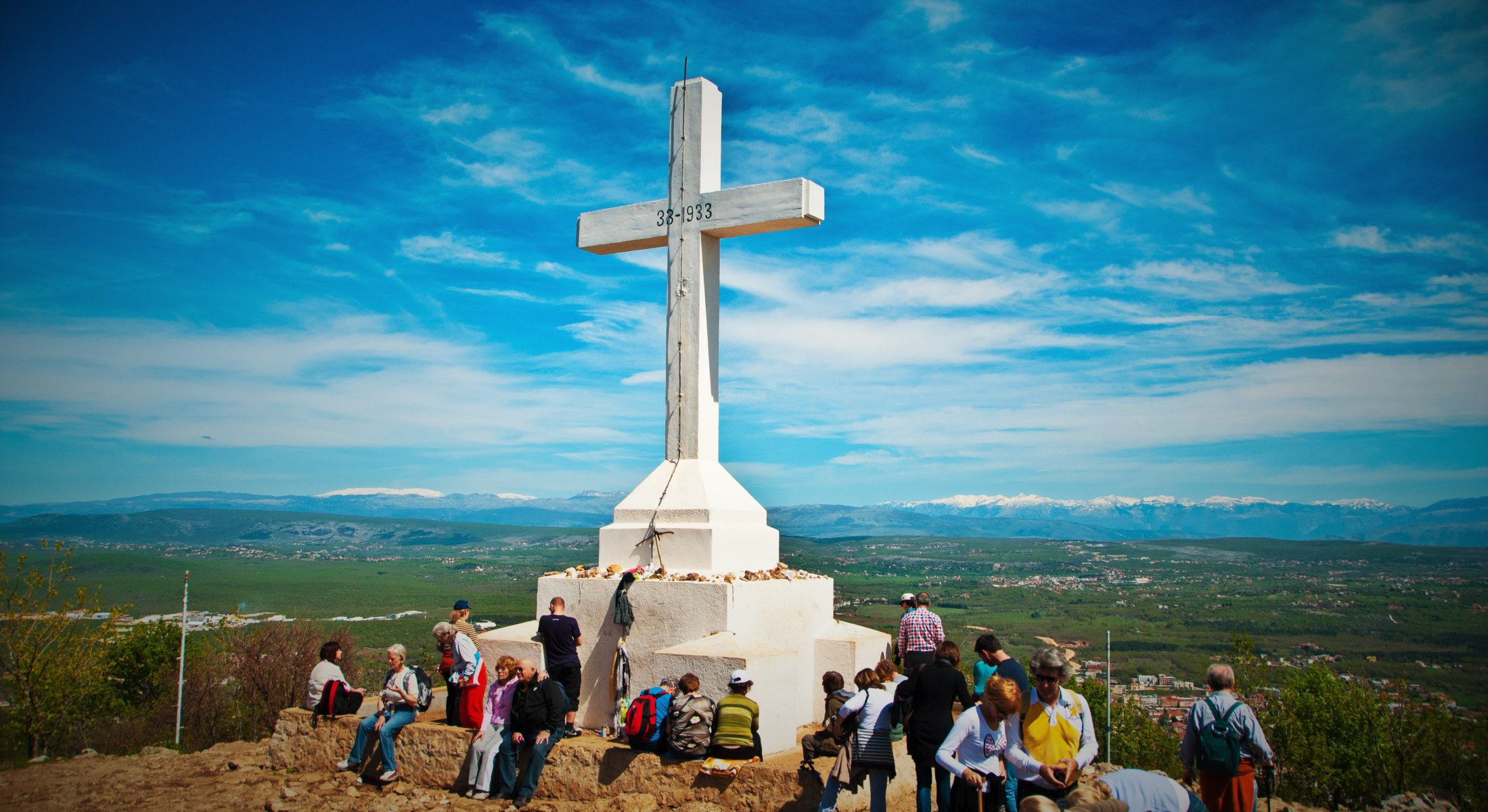 Medjugorje Active Pilgrimage
7 days/6 nights
Dubrovnik or Split airport:
Small village of Medjugorje has been introduced to the world in 1981, after the apparition of Virgin Mary. Local children have witnessed the event that influenced their own and the lives of millions of other people. Each year since 1981, Medjugorje has been visited by thousands of pilgrims. "Active Pilgrimage Medjugorje" offers unique mixture of spiritual and active holiday, experiencing everything Medjugorje and surrounding area have to offer.
Day 1: Welcome to Medjugorje
Upon the arrival to the airport of choice, guests are transferred to Medjugorje where they will meet the local guide who will offer them introduction to the town. Lunch or dinner will be organized at Wine Hotel Cesarica, after which guests can attend the mass at St. James Church and evening mass program. Overnight is organized in Hotel Cesarica.
Day 2: Day of Spirituality
After the breakfast, guests will be guided to the Apparition Hill, site of the apparition of Virgin Mary in 1981. Morning mass will follow, and guests will have the free time in downtown Medjugorje until lunch. Mother's Village is a place where guests can really feel the acts of benevolence Medjugorje is known for, as they are introduced to an orphanage founder in 1993 by the local Franciscans. Visit follows to the St. Francis Garden, a place where nature meets spirituality. Before the dinner organized in Hotel Cesarica, evening mass program is scheduled. Overnight is organized in Hotel Cesarica.
Day 3: Visit to Mostar
After the breakfast, guests will visit Mostar, largest city in the region of Herzegovina. Its Old Town and 16th century Old Bridge protected as UNESCO World Heritage site, will certainly make our guests acquainted with the different civilizations and cultures mixing for more than 5 centuries. Lunch is organized in traditional restaurant of Udovice placed in the viticultural plateau of Brotnjo. Guests will be able to taste local lamb. Tasting the local wines is organized in wine cellar Andrija, family owned winery in nearby village of Paoča, as they explore the vineyards and the cellars. Evening pilgrimage follows after dinner in Medjugorje.
Day 4: Day of Inspiration
After the breakfast, guests are climbing the hill of Križevac. Cross erected in 1930's by local resident is a site of prayer and beautiful view of Medjugorje and the region. Morning mass in St. James Church follows, as then the guests can have a relaxing lunch in Hotel Cesarica. During the visit to Cenacolo commune our visitors can witness the testimonies of those whose life has been saved my Medjugorje as they rose from the hell of drug addiction through hard work and prayer organized in the commune. Inspiration can be found in the House of Prayer owned by Canadian couple Nancy and Patrick. They have decided to devote their lives to Medjugorje and to inspire people to change their lives to better. Evening mass program follows, after which guests will have dinner.
Day 5: Herzegovina's Heritage
On the 5th day, guests will visit medieval castle of Ljubuša above nearby Ljubuški, where they will be introduced to rich history of the region. Picturesque beauties of Kravice waterfalls will leave many of our guests breathless as they can enjoy swimming or sunbathing in the place of unrivaled beauty. Lunch is organized in the Park of Nature Hutovo Blato, largest bird reserve in the country. Guests can also experience Počitelj, whose narrow cobblestone streets have once welcomed traders from all corners of Mediterranean coastline. Visit to the Stone Vineyards follows and guests can get to know the local wine sort of Žilavka.
Day 6: Legacy of Medjugorje
After the breakfast, countryside trip to Široki Brijeg is organized. Our guests will visit the Franciscan monastery and its art gallery. At the village of Tihaljina, they will attend the mass at noon, where they can witness Father Jozo Zovko, the Franciscan from Medjugorje who has given support to the visionaries during their troublesome years of persecution. In the late afternoon, the highlight of the tour is scheduled as our guests meet the visionaries and their testimonies. Evening mass with program for pilgrims follows at St. James Church before the guests retreat to their hotel.
Day 7: Departure
After the breakfast, transfer is organized to the airport of choice.